Sister Parish Committee
ST. JOSEPH PARISH
Namalaka, Malawi, Africa
Parish Website
Bishop Montfort Stima
Fr. Davie Mambo
Members:
Brigette Blair
Jeannie DeSmet
Marie Hedden
Jeannette Parrott
Donna Paulson
Cindy Roeter
Mary Winter
NOTES FROM MALAWI
Letter from Fr. Davie
On behalf of St. Joseph Namalaka Parish I would like to thank you and the whole delegation for making it to Malawi for a visit at your Sister Parish.
We appreciate the efforts and the initiatives you are taking in our Parish.
Let me also thank you for all the items that were donated to us. We are always appreciating how our Parish has been transformed in terms of Liturgical Vestments and vessels as well as clothes and sporting equipment that were donated to the Parishioners. We don't take all that for granted. May the good Lord bless you and St. Brendan Parish.
Special thanks to the pastor Fr. Nick Wichert for being part of the delegation. Being busy people all of you, you spared your precious time for the sake of your brothers and sisters here. May the Good Lord bless you abundantly.
Be assured that we are very committed in our Sister Parish relationship and that all your donations will be cared for and put to proper use. The projects you initiated are worthy appreciating and as St. Joseph, we are committed to see how we can keep nourishing our Sister Parish Relationship with St. Brendan Parish.
Continue praying for us as we pray for you. Let's help each other to grow in faith, hope and love so that our relationship should help us to reach heaven one day.
God bless you.
Fr. Davie
St. Joseph Namalaka Parish Pastor
————————————————————–
Hello from Namalaka! Monday the 13th, Fr. Wichert, Marie and Dale began the long journey home. We had a busy but amazing week! Last Monday, we met with the Women's group and were able to fund them to start a few small businesses! We also met with the youth and discussed our two programs. Then we visited the health center in the afternoon. Tuesday we ended our time in Namalaka by visiting the sick in the village in the morning. It was a moving experience for all of us. Wednesday was a day for relaxing. We went to visit monkeys in the wild and got to feed them! We also visited a diocesan college that reopened a few weeks ago and did some souvenir shopping. Thursday we visited Liwonde National Park and saw hippos, elephants, crocodiles and all the other animals! Friday we saw Mua, which is a cultural center that explains how Christianity came to Malawi. Saturday we attended Mass where two sisters celebrated their final vows. We then returned to Namalaka for our farewell Mass on Sunday. The Mass was an emotional experience. We received a beautiful gift from the parish. We also signed the sister parish agreement for another 3 years. We invited a delegation to visit us at St. Brendan in 2019.
All for now from the Warm Heart of Africa! Zikomo Ambuye!
————————————————————–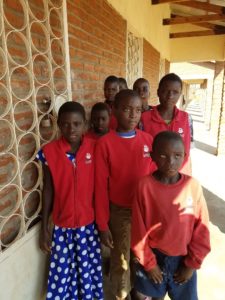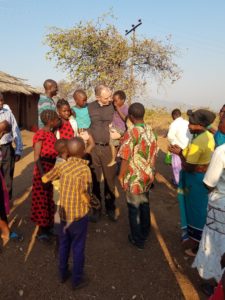 Hello from the warm heart of Africa! We have had a fruitful time so far. Friday we attended an ordination, 3 priests and 2 deacons.  Saturday we met with Namalaka parish leadership, discussed the Brendan Bowl program and visited 3 out churches, Lupetere (the furthest north), Lugola and Saiti.  There was much singing and joy, which touched all of us. Sunday we had a welcome Mass at Namalaka and we had Mass at the out church that is the furthest south, Rashidi. It was another glorious day. Next we stopped by Lunhena school, which is where the Brendan Bowl will be moving next year. We also saw the neighboring parish, Padre Pio.  Monday we meet with the Catholic Women's group and the youth and also have a tour of one of the health centers. Tuesday we visit the sick and other activities before we move back to the Bishop's house. We have all been touched by the joy and faith we find here. Zikomo Ambuye!!