First Communion
Contact
Rosa Connolly
Pastoral Assistant for Children and Family Ministry
425-483-9400 x2648
childfamilyministry@saintbrendan.org
Process
Children who are receiving First Communion at St. Brendan must have one year of faith formation prior to the year in which they are prepared for the Sacrament.  This may be accomplished through registering for the Disciples Club Wednesday evening faith formation program, or through attending a Catholic school the year prior to the preparation.
All preparation is parish based, that is to say, even if a child attends St. Brendan Catholic School, he or she must still attend the sacramental preparation classes offered each year.  There are 5 classes, a retreat, and a rehearsal, which include opportunities for parent formation as well.
Schedule
All children's faith formation programs begin the first week of October every year.
Background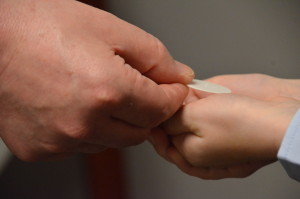 The Eucharist is the most special sacrament, in which Christ himself is contained, offered and received, and by which the Church constantly lives and grows. The Eucharistic sacrifice, the memorial of the death and resurrection of the Lord, in which the sacrifice of the cross is perpetuated over the centuries, is the summit and source of all Christian life and worship; it signifies and affects the unity of the people of God and achieves the building up of the Body of Christ.
As children reach the age of reason, generally around age seven, the Church extends to them an invitation to celebrate the sacrament of Eucharist. The initiation into the Christian community that took place at baptism is further extended by inviting children to enter fully into the heart of Christian faith through participation in the Eucharist.
The Eucharist is the sacrament by which Catholics receive the Body and Blood of Jesus Christ. For Catholics, this is the most treasured gift given to the Church by the Lord at the Last Supper. In receiving the Eucharist, we are nourished by the Lord. The bread and wine used in the Mass are transformed in all but appearance into the Body and Blood of Christ.
Resources
Eucharist basic questions and answers from the United States Conference of Catholic Bishops
Frequently Asked Questions