Matrimony (Marriage)
Contact
Parish Office
425-483-9400
Process
To celebrate your wedding at St. Brendan: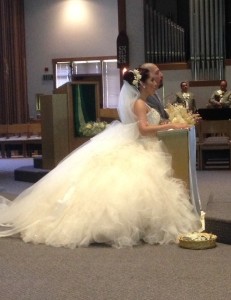 You must be a registered, actively attending member of St. Brendan for at least six months prior to requesting one of our priests to celebrate your wedding at St. Brendan.
Once you have secured a date for your wedding with one of our priests, the date will be held on a tentative basis until the church use fees have been paid, and marriage preparation has been completed.
The marriage preparation process takes six month and will include completing canonical forms, attending Engaged Encounter or an alternate option, meeting with the priest who will preside at your wedding, and meeting with the Pastoral Associate to plan your liturgy.  For Marriage Preparation, call the office at 425-483-9400.
Schedule
Call the office to leave a voice message for Fr. Wichert
Background
The Sacrament of Marriage is a covenant, which is more than a contract. Covenant always expresses a relationship between persons. The marriage covenant refers to the relationship between the husband and wife, a permanent union of persons capable of knowing and loving each other and God. The celebration of marriage is also a liturgical act, appropriately held in a public liturgy at church. Catholics are urged to celebrate their marriage within the Eucharistic Liturgy. (USCCB.org)
Resources
Frequently Asked Questions
What is the Sacrament of Matrimony?
Matrimony or Marriage is a sacrament, a sign which makes God's love tangible and communicates that love to us and to the world. It does this in the daily process of sacrifice, compromise, raising a family, prayer, and approaching the enjoyable, annoying and painful effects of every day life together. As a couple, you are called to bring your lives together into something that is greater than both of you, and to create a unity that manifests God's love to each other and to the world. By marrying in the church you are saying to the community that you want to grow in love of God and one another.
Who may marry at St. Brendan?
All sacraments "presuppose faith" and are called "sacraments of faith." For this reason it is presumed that a Catholic wishing to marry at St. Brendan is one who believes in Christ and is an actively involved member of a Catholic parish. You must be registered for at least six months prior to your wedding to have one of our priests witness your wedding.
What if I am not a member of St. Brendan?
If you are presently a member of another parish but wish to marry here at St. Brendan because you plan to reside in the area or have family connections, please talk with us about that. We can help you work out the details of your marriage preparation in your own parish while making plans to have your wedding here at St. Brendan.
May a Catholic marry a Non Catholic or a non baptized person?
A Catholic is allowed to marry a non-Catholic regardless of whether that person has been baptized. During marriage preparation both parties will be asked to confirm their understanding of the obligations arising from such a marriage. Non-Catholics are most welcome to ask any questions they might have of us and to seek additional marriage preparation from their own faith community.
What does marriage preparation at St. Brendan include?
At. St. Brendan we recognize the importance of being fully prepared for the lifelong intimate relationship of marriage. The preparation includes meeting with the Pastoral Associate, an Engaged Encounter Weekend, completing a communication inventory (FOCCUS), and planning the liturgy.
When can we reserve the wedding date?
We ask couples to make their initial contact with St. Brendan at least six months before the proposed wedding date. (If either of you has been married before, an annulment may be necessary; this may require additional time.)
Respecting the liturgical calendar, there will be no weddings scheduled from December 17 through December 25, or during the Lenten season and Easter Triduum.
Do we need a rehearsal? When will it be scheduled?
A rehearsal time and date will be scheduled when you arrange a wedding date.
Who can preside at my wedding?
The pastor or the Parochial Vicar preside at all marriages that take place within a Mass. The parish deacon presides at all weddings celebrated during the Liturgy of the Word with the Rite of Marriage.
May we have an outside priest celebrate our wedding at St. Brendan?
If you wish to make a request for a Presider who is not a member of St. Brendan Parish staff, special arrangements must be made. If the priest is a member of the Seattle Archdiocese, then our Pastor can give him delegation. If the priest is from outside our Diocese, then permission must be granted by the Seattle Archdiocese through the Vicar for Clergy office.
Is there any restriction on who our witnesses may be?
The Church recognizes as the official witness the priest or deacon who presides. Two other witnesses stand by your side during the rite and it is their duty to attest to the fact that the marriage did take place. These witnesses need not be Catholic. While it is customary to have a male and female witness, you may have two female or two male witnesses.
What kind of music can we have at our wedding?
The document "Music in Catholic Worship" (U.S. Bishops' Committee on the Liturgy, 1972) gives three criteria for judging the appropriateness of any piece of music for use in the liturgy. Adapted for use at a wedding, these criteria would be:
1. Musical judgment―Are the music and text good quality?
2. Liturgical judgment―Does the piece fit into the flow of the rite itself? Would it be appropriate for a liturgy with readings on the subject of married love?
3. Pastoral judgment―Does the music express the faith of the couple and the community? In other words, is it prayerful?
Additional information concerning music for weddings will be made available to you as part of the Marriage Preparation process.
Who can do the music at our wedding?
Any musicians must be experienced in providing good liturgical music. Please consult the Pastoral Associate regarding this before you contact other musicians.
Can we decorate the church for our wedding?
The following policy statements are meant to help clarify what choices you have concerning the church environment.
The furniture in the worship space cannot be moved or rearranged. Seasonal environmental accents or arrangements ordinarily may not be moved or altered for your wedding. This includes the colors that are used on the altar or in the ceiling area.
Nothing may be taken down, nailed or attached to the walls, the altar, the chairs or anything else in the church. If you wish to use bows on the pews or chairs we ask that no tape, putty, sharp hooks or anything permanent or damaging be used. Plastic hooks and ribbon work well in attaching bows.
For safety reasons, you may not block aisles and traffic flow and you may not use a runner on the floor. Flower petals, confetti or other materials may not be scattered in the church or outside.
We recommend that the flowers, candelabra, etc., be in proportion to the environment that will be used for your wedding. We only allow real flowers in our church since liturgy celebrates something real―the Paschal Mystery of Jesus Christ.
Candelabra must have plastic under them to protect the carpet from melting wax. For safety reasons, no uncovered candles are allowed down the aisles of the church.
Can our guests shower us with rice or bird seed as we leave the church?
Due to safety concerns and the difficulty in cleaning, we ask that no rice, flower petals, shredded paper or birdseed be thrown anywhere in parish buildings or around the parish grounds.
When we reserve the church for our wedding, will the building be exclusively reserved for us?
Occasionally some other parish event may be scheduled in the church facilities or adjacent rooms during your rehearsal or your wedding preparation time. The nave of the church and the bride and groom rooms are reserved for you exclusively on the wedding day.
Is smoking allowed in any part of the church?
Our parish policy prohibits smoking in all parish buildings. Receptacles for smoking materials can be found outside selected doors.
Can we take pictures during the liturgy?
We request picture taking be done in such a way as to insure respect for the sacred nature of the liturgy. We ask that:
All still photos be taken before the wedding and the taking of pictures ends at least 30 minutes before the liturgy is scheduled to begin.
Photos during the actual liturgy may be taken, but we ask that at no time should the taking of photos obstruct the liturgical action. No flash photography may be used at anytime during the liturgy.
Videotape equipment may be set up at the approved locations only. We ask that all equipment be set up and in place at least 30 minutes before the beginning of the liturgy. No microphones may be placed on the bride or groom.
We ask that no additional lighting be used in the nave during the liturgy.
Please include in any worship aid distributed to wedding guests a request that flash photography not be taken during the liturgy.
In order to protect our own equipment, no outside equipment can be plugged into the church sound system.
What are the fees for a wedding at St. Brendan?
A fee is charged to cover the cost of marriage preparation and use of the church. This fee includes church facility use, wedding hostess stipend, the cost of printed materials, the filing of documentation and other miscellaneous expenses. The average fee for using our church for a wedding in our Nave is $730. If you are planning a small wedding in our chapel, the fee is $370.
Fees for Engaged Encounter, the counseling sessions and musicians are paid directly to these parties.
What if I or my fiancée have been previously married? Can we be married in the Catholic Church?
Any person wishing to be married in the Catholic Church who has been previously married—regardless of whether that person is a Catholic or non-Catholic—will need additional records. If he or she has not already acquired a decree from the Catholic Church declaring their freedom to marry, they will need to begin that process. While each case is different, this could take several months. A wedding date cannot be set until this process is completed. Please discuss your circumstances with the Pastoral Associate.
What about a unity candle?
We do not permit the use of a unity candle during the wedding liturgy. If you wish to use a candle as a special symbol, we encourage you to use it at your engagement party, reception or at some other appropriate celebration.
What documents do we need to get married at St. Brendan?
You will need to provide newly issued (within the last 6 months) baptismal certificates, with notations, for both the bride and groom. These may be obtained by contacting the parish church where you were baptized.
Each of you will need to complete a Canonical Prenuptial Investigation form. The Pastoral Associate will complete this document with you.
Each of you will need to have a family member or close friend complete a Canonical Prenuptial Investigation form.
You will need to obtain a marriage license from any Washington State County Clerk's Office.
• The King County Clerk's Office phone number is 206-296-3933.
• The Snohomish County Clerk's Office phone number is 425-388-3627.
The license must be brought to the wedding rehearsal.
Does St. Brendan provide Marriage Preparation Classes (such as Pre Cana) for non parishioners
We do not have "classes" per se, and because our priest meets with each couple individually as part of our marriage prep process, we are unable to offer Marriage Preparation for non-parishioners.