Matrimony (Marriage)
Contact
Parish Office
425-483-9400
Process
To celebrate your wedding at St. Brendan: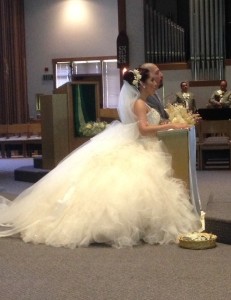 You must be a registered, actively attending member of St. Brendan for at least six months prior to requesting one of our priests to celebrate your wedding at St. Brendan.
Once you have secured a date for your wedding with one of our priests, the date will be held on a tentative basis until the church use fees have been paid, and marriage preparation has been completed.
The marriage preparation process takes six month and will include completing canonical forms, attending Engaged Encounter or an alternate option, meeting with the priest who will preside at your wedding, and meeting with the Pastoral Associate to plan your liturgy.  For Marriage Preparation, call the office at 425-483-9400.
Schedule
Call the office to leave a voice message for Fr. Wichert
Background
The Sacrament of Marriage is a covenant, which is more than a contract. Covenant always expresses a relationship between persons. The marriage covenant refers to the relationship between the husband and wife, a permanent union of persons capable of knowing and loving each other and God. The celebration of marriage is also a liturgical act, appropriately held in a public liturgy at church. Catholics are urged to celebrate their marriage within the Eucharistic Liturgy. (USCCB.org)
Resources
Frequently Asked Questions